You're here, reading this post, which means that you already know great coaching testimonials will help you sign up more, better-paying clients.
If you're really in a hurry, you can scroll to the end of the post and snag the templates BUT I don't recommend this because there's so much more to these emails than just clicking "Send".
Still here?
Awesome!!! Here's the first and most important thing I want to share with you:
A testimonial isn't a bunch of nice words on your coaching website. It's a sales tool! So, it has to be carefully designed to actually get you more clients.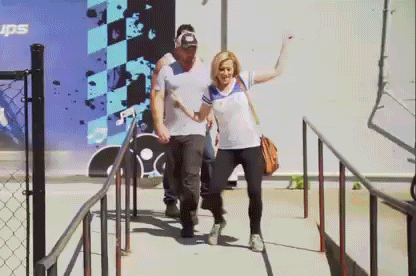 When to request a testimonial
Remember the old adage… "Strike the iron while it's hot"
It applies 100% to gathering testimonials. The best time to ask is right after your client has had a breakthrough or reached a milestone.
Why? Because, at that moment, the client's brain starts releasing happy chemicals and they will be pre-disposed to give you a glowing testimonial.
So, does this mean that you shouldn't ask past clients for a written recommendation? Nope. It just means that it's better to ask right after they get a result. You can reach out to clients you worked with 6 months ago or even a year ago.
Important! Read this before you request a single client testimonial
There is a world of difference between high-impact testimonials and sugary praise.
A high-impact testimonial is not about you. It's about your coaching client and their transformation. It has to tell the story of how your client got out of misery (unhappy, stuck, sick, etc.) and into bliss (happy, fulfilled, healthy, etc.)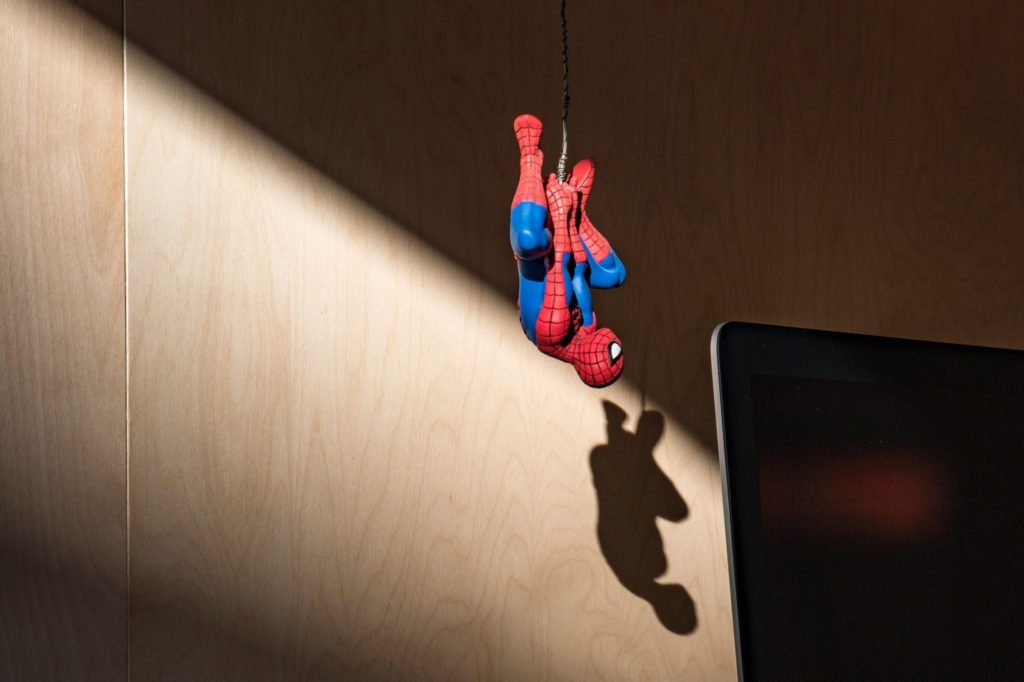 Story + transformation is the winning formula because stories make your prospective clients relate and the most powerful stories are always, always about transformation.
This is the kind of testimonials that you should be publishing on your coaching website. Not "Thank you" emails that talk about how awesome you are.
Should you collect testimonials, ask for feedback or… ?
Most coaches find it difficult to ask for a testimonial directly. I get it. "Will you give me a testimonial?" has to be one of the top worst opening lines…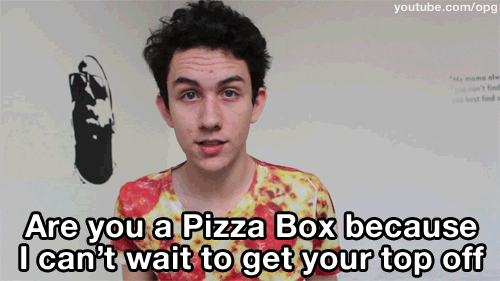 What's even worse is that clients don't like giving testimonials any more than you like asking for them because they feel pressured. If you don't believe me, there is proof. For example, did you know that people search Google for "how to write a testimonial for a personal trainer"?
So, the T-word gives your clients the heebie-jeebies. Is there a workaround?
One solution that I've heard is to mask the testimonial request as a "feedback request". This might sound like a good idea until you learn that…
Most people don't like and even avoid giving feedback
This was revealed in a study published in the British Journal of Social Psychology. Plus, feedback won't help you sign up more clients. What you really need on your website are success stories.
That's why I have an alternative suggestion…
What if you said,
"Could I ask you X quick questions about working with me?"
Boom! You didn't call it feedback. You didn't call it a testimonial. You are in the safe zone! And you're very, very specific which helps you get more replies.
Sound good?
OK, now, let's get down to the nitty-gritty…
How to ask for a testimonial from a client
Here's the best way to get client testimonials (step-by-step):
Don't wait for testimonials to roll in. It will happen but why wait? It's perfectly fine to be proactive about it.
Ask your happy clients. Ask while the client is still excited about a result they got recently.
Don't beat around the bush. Ask clear questions to prompt powerful testimonials. (More on this below).
Be flexible. If they prefer email, send your questions over email. If they prefer phone, do that. If they are too busy, do it at the end of your next coaching call.
Ask about the BEFORE and the AFTER. Remember, you're not looking for empty sugar-coated praise. You're looking for a story of transformation.
Ask about the objections they had before hiring you… and overcome these objections either in the testimonials section or in the FAQ section.
Edit but use their words. Clients will often get carried away talking about their experience. So, it's okay to cut the testimonial down to a few sentences. However, try to keep the original verbiage as much as possible because this is the best sales copy you can have on your website.
ALWAYS get permission. This should go without saying but still… Before you publish a testimonial on your website, ask for the client's explicit approval.
NEVER forge testimonials. If this thought has crossed your mind, you should know that fabricating testimonials could potentially have ugly consequences. If you desperately need recommendations, do some pro-bono work.
Use photos. Put a face next to your client's name to make your testimonials more trustworthy.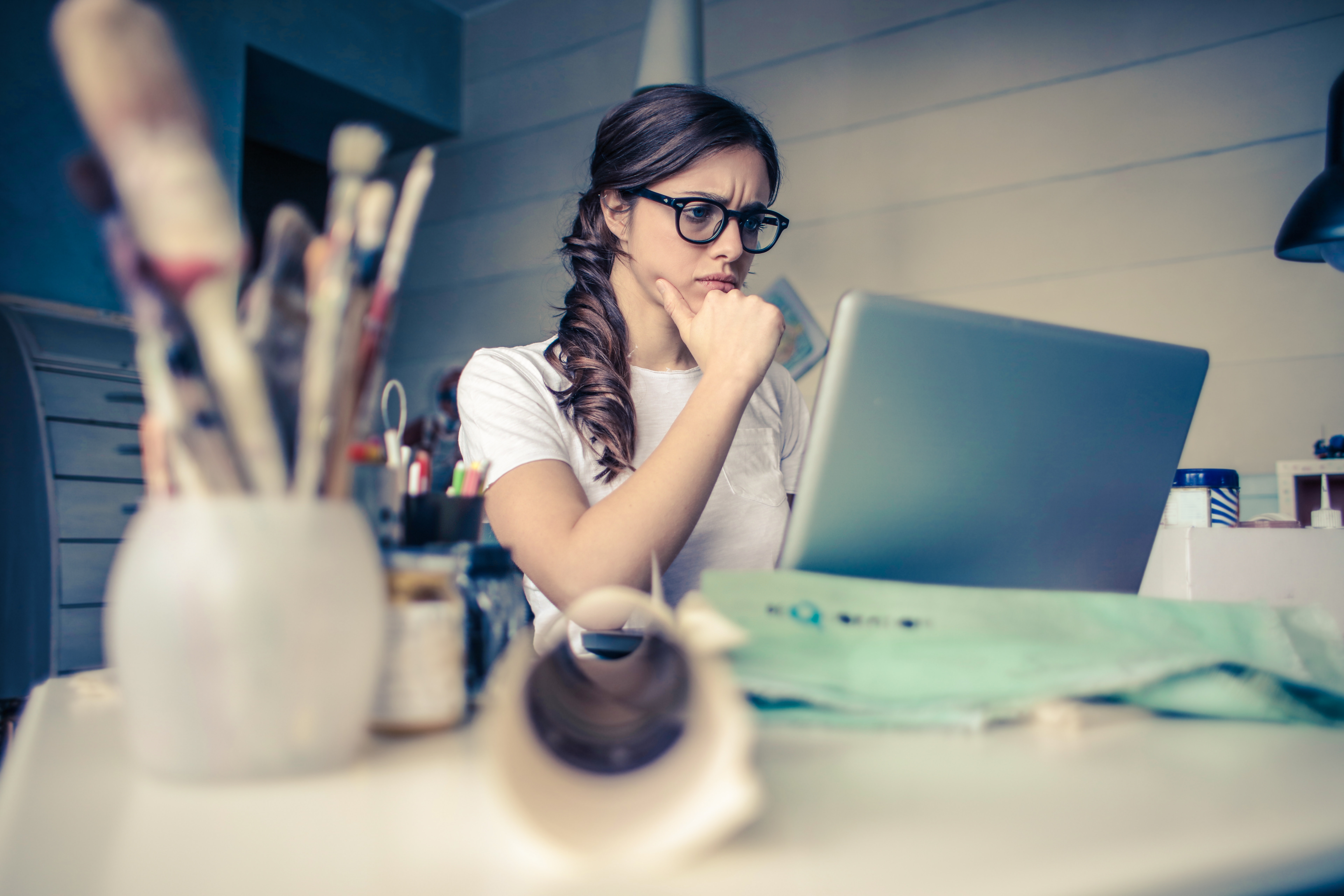 Questions to ask to get client testimonials
| | |
| --- | --- |
| Goal | Question to ask |
| Define the BEFORE state | "How did you feel before working with me? What were the biggest issues you were facing?" |
| Pinpoint other SOLUTIONS | "What else have you tried to solve these issues? How did it go?" |
| Uncover the OBJECTIONS | "Did you have any concerns [doing/getting] [your service]? What were they?" |
| Define the AFTER state | What changed after working with me? |
| Get a CALL TO ACTION | If you wanted to recommend me to a friend, what would you say? |
Ask these questions in this order and I guarantee you'll quickly enwrap your health and wellness business in a halo of solid social proof which will actually help you enroll more clients.
Want the testimonial request email templates already?
Should you write client testimonials yourself?
Testimonials are an important piece of marketing copy so I don't recommend writing them yourself. You need authentic testimonials. You need to quote your clients word for word because this is one of the most powerful ways to market your coaching practice. Using the exact words your clients use increases your conversions.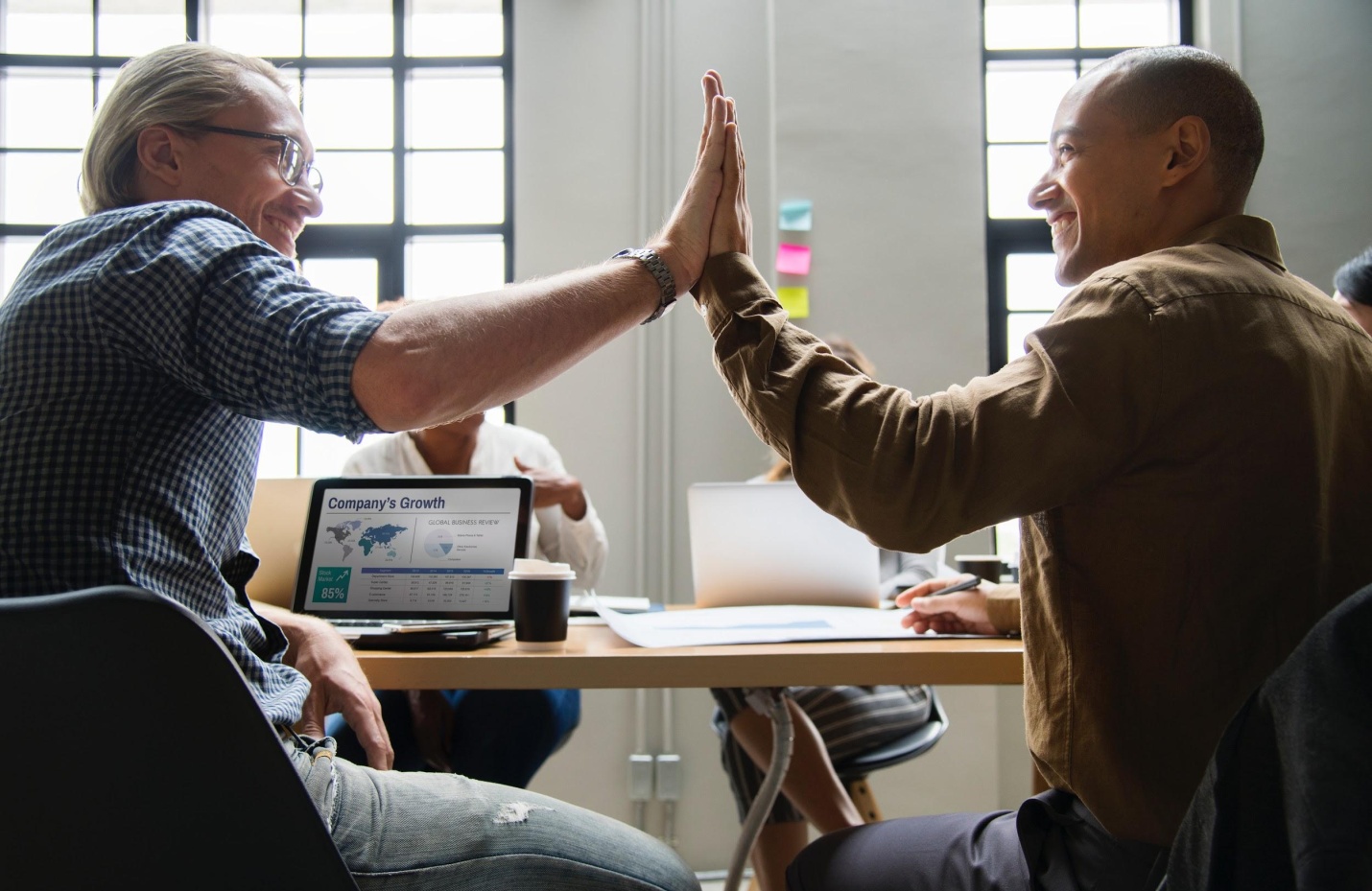 But what if your clients are too busy? What if you coach executives? Well, then, get creative! For example, you can ask the questions at the end of a coaching call.
How long should a testimonial be?
The best client testimonials are usually two to three (carefully picked) sentences. Or about 100 words. Use this as a guideline but feel free to publish longer testimonials. Especially, if the client gave you a compelling story.
How to structure your testimonials
Like I mentioned, a well-written testimonial is a sales pitch. And the questions you use to prompt a testimonial are the basis of that sales pitch. When you use my method, you don't have to think about structure. Just taje the answers and stitch them together.
With that being said, the best testimonial format is
BEFORE state -> AFTER state -> CALL TO ACTION.
Don't forget to highlight what's important. People don't read online, they scan. This doesn't mean you have to have less copy. It simply means that you have to emphasize the important stuff. If your testimonial gets a bit lengthy, just bold the important phrases.
Coaching testimonials examples
The best way to learn is through example. Japanese scientists proved this while trying to dissect… the art of chicken sexing. They found that, even though there was no formal training for this skill, people were able to master it within 2 weeks. The secret was, you guessed it, learning through example.
So, let's follow that principle and look at a few website testimonial examples.
Life coaching testimonial
Note how this testimonial is all about the client. That's what you need. The client needs to be the hero in this story. The photo boosts the credibility of this testimonial.

Wellness coaching testimonial
Here's another example from a client testimonials page. See how raw and powerful this is? This story is living proof that nobody can say it better than your clients. So, don't go overboard with editing. Keep their words.

Fitness coaching testimonial
The last entry in this series of client testimonials examples is for a personal trainer. This is one of my favorites! It's long, yet it compels you to read to the end.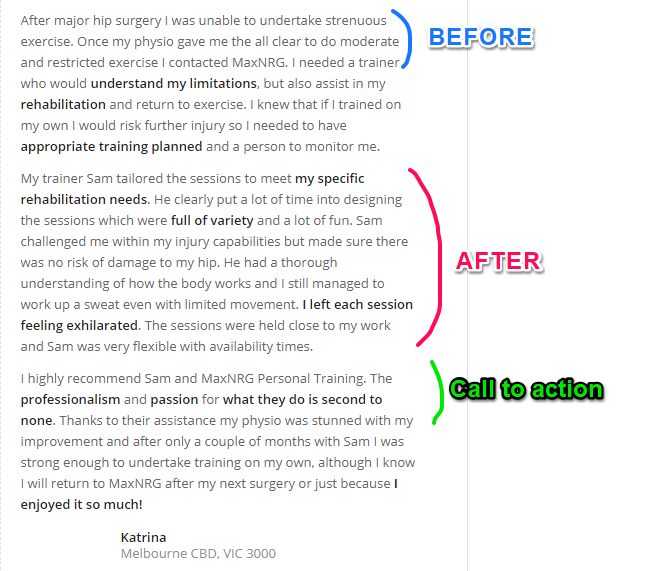 When you're publishing a long-form testimonial like this one, don't forget to bold the important stuff.
Steal My 3 Proven Testimonial Request Email Templates
Learn the 1 simple trick to get a testimonial from any client (even if they are super busy)
Learn the 4-step process that gets your clients to write juicy, compelling testimonials every time
Use 6 clever persuasion techniques to make sure your emails never get ignored
References And Further Reading
So, you read till the end. Kudos to you! You're one smart, curious cookie! 🙂 If you want to learn more about getting winning client testimonials, check out these resources: